Deposit required:
500€ (non-refundable)
Payment in full:
90 days before starting date
Tuscany is justly considered to be one of the most beautiful places for landscape photography. If you are a photographer, who is in love with nature, this tour is for you! I have been to Tuscany many times and I know it as my home, that is why we will visit not only the most well-known locations, but also practically unknown places hardly ever visited by tourists and photographers. We will stay at amazing rural villa in the heart of Tuscany – Val d'Orcia valley, a few minutes drive from such famous locations as Podere Belvedere and capella Vitaletta. During our photography tour we will move around in a comfortable Mercedes minivan. In addition to such iconic for photographers places as Gladiator Villa, Podere Belvedere, capella Vitaletta, villa Baccoleno, we will visit small beautiful towns - Sorano, Pitigliano, Pienza, San Gimignano. And, of course, we will enjoy wine degustations, fantastic Italian cuisine and famous Saturnia hot springs.
Day 1
We meet you at Fiumicino airport (Rome) at 1-2 pm and head straight to our beautiful rural villa. We will have sunset shooting close to our villa and right after we will have a welcome dinner at the villa.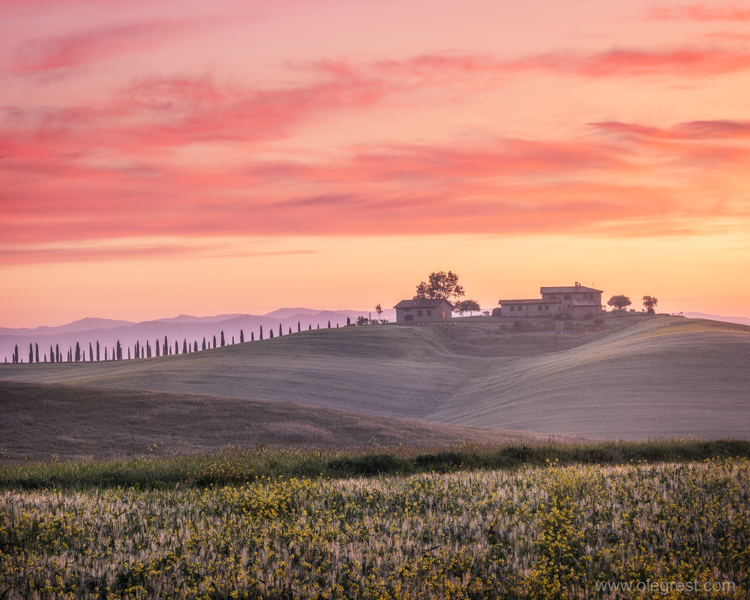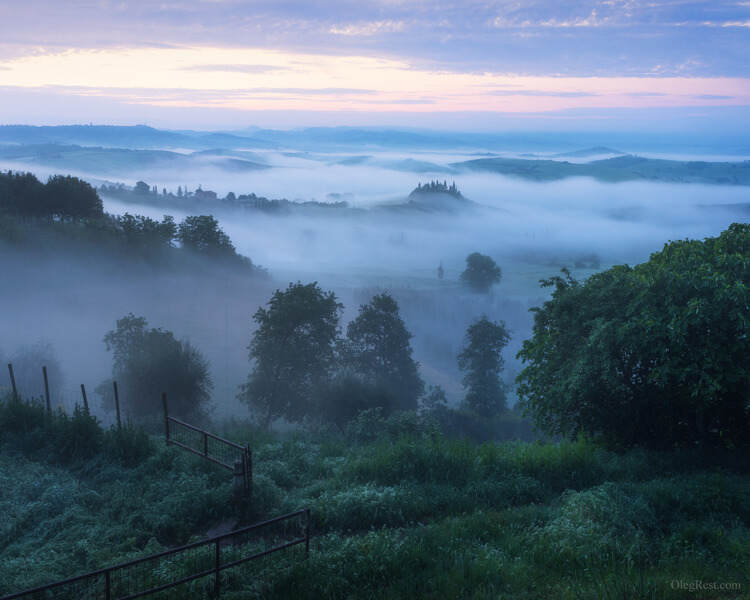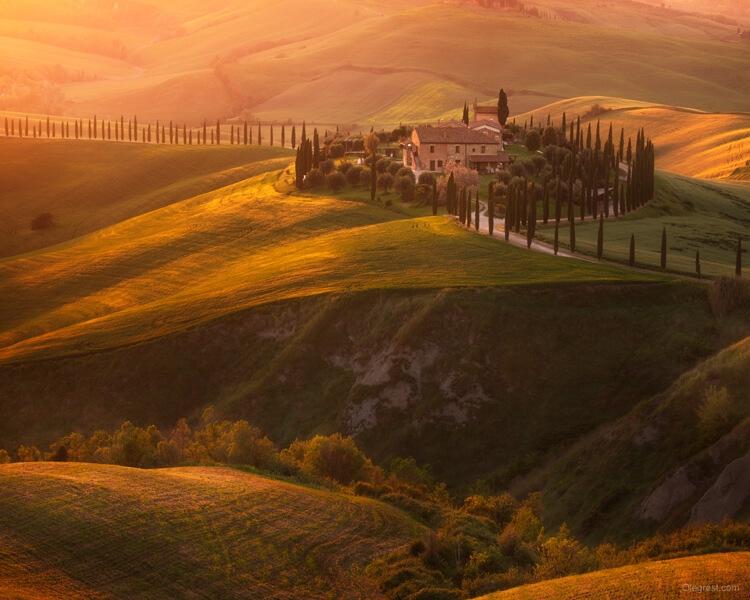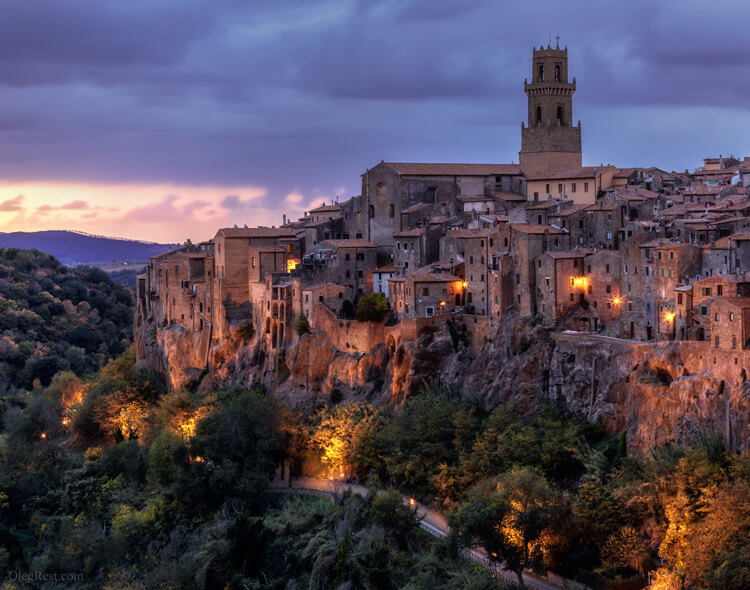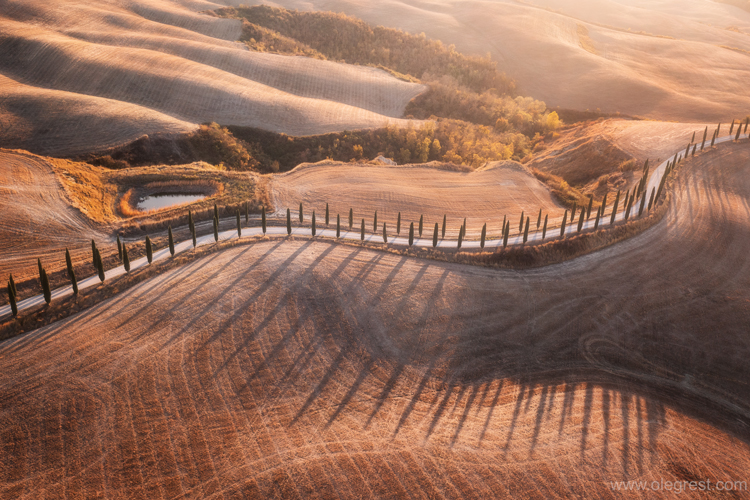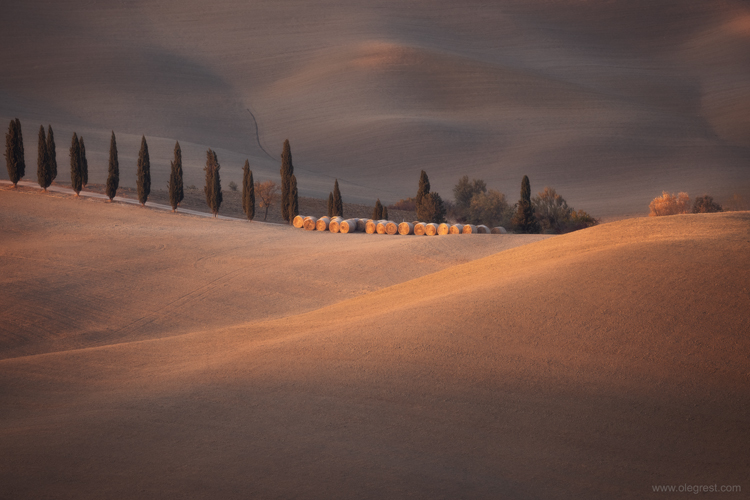 Day 2
We meet sunrise at Poggio Covili famous for its amazing cypress path. After breakfast at the villa we will go to one of the coziest Tuscan towns – Pienza. We will walk along the ancient stoned streets, have a coffee at Piazza Pio II, visit Pienza Cathedral, enjoy Tuscan panoramic views and taste a famous Bistecca Fiorentina (Florentine steak). At sunset we will photograph one of the symbols of Val d'Orcia - capella Vitaletta. After sunset shooting we will have traditional Italian dinner at the villa.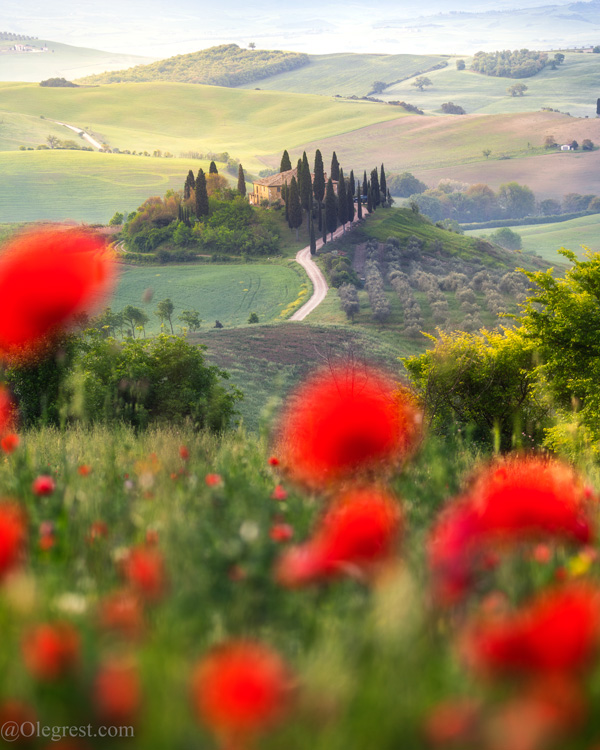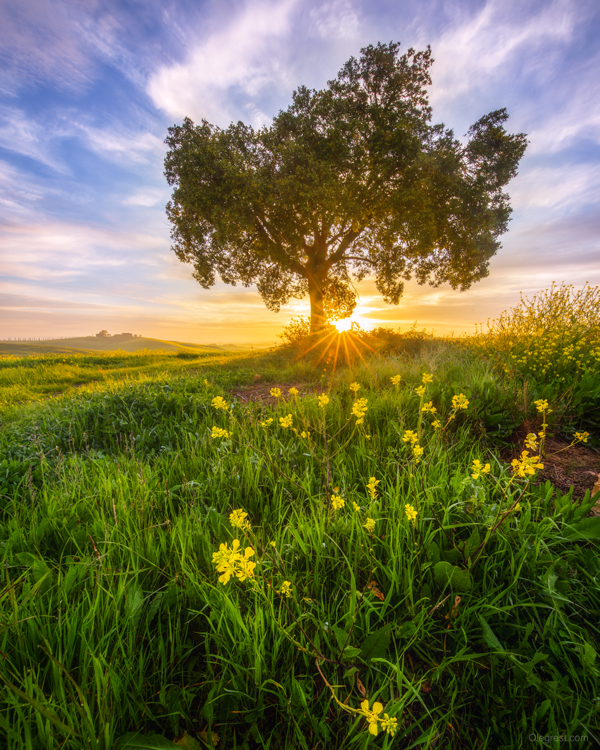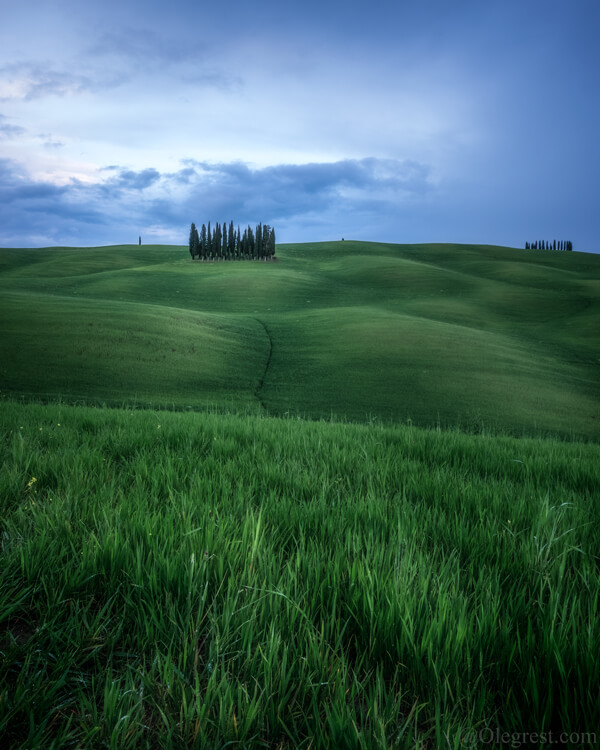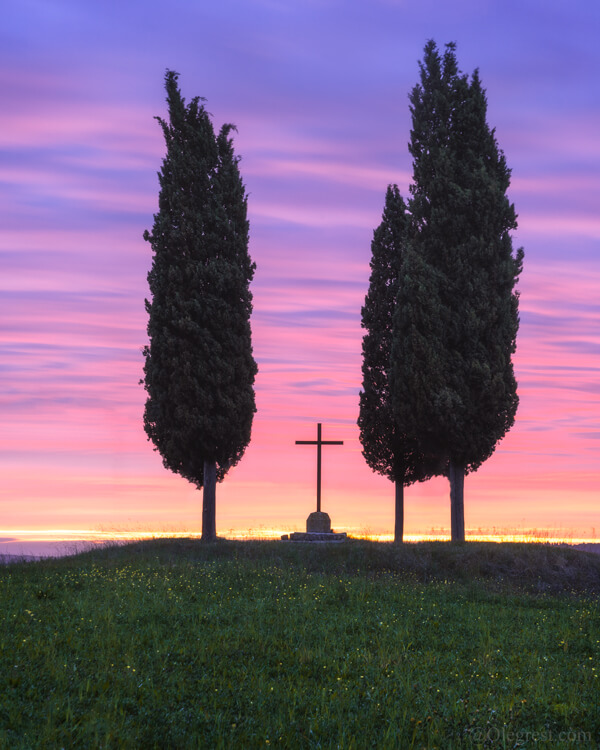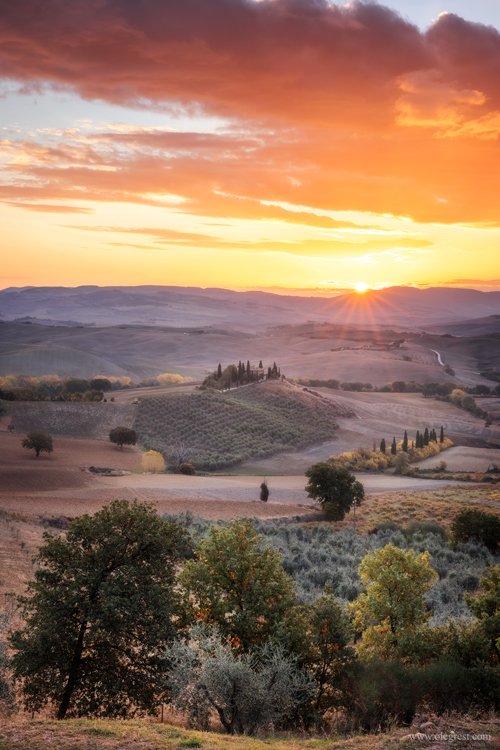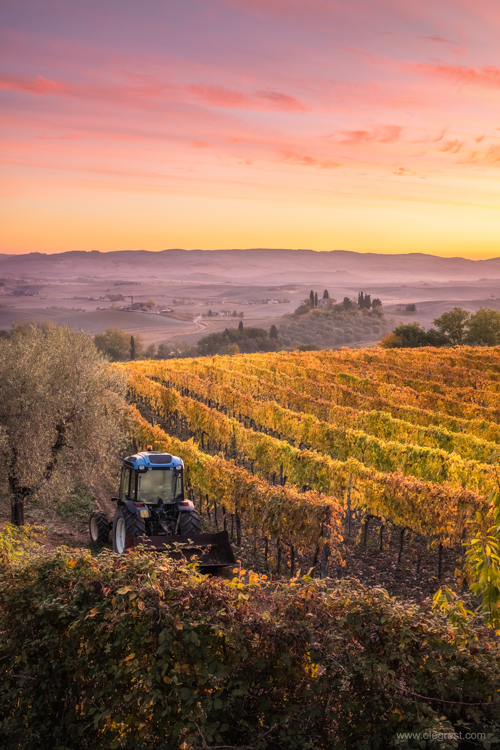 Day 3
We meet a sunrise at famous Gladiator Villa. This is where the key scenes from Ridley Scott's Gladiator with Russell Crowe were filmed. After breakfast at the villa we head to ancient picturesque tuff towns – Sorano and Pitigliano. We will photograph sunset from panoramic spot in Pitigliano. After sunset we will take pictures of cozy winding streets of the ancient town.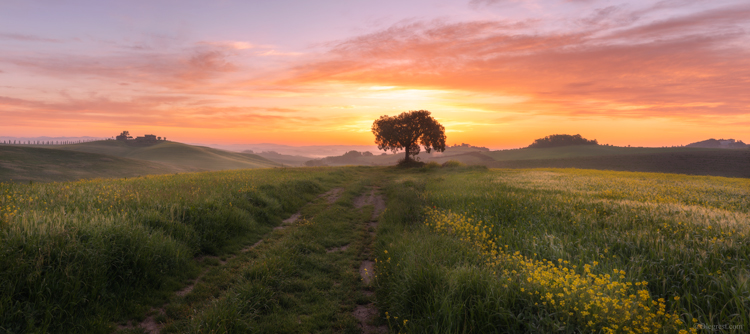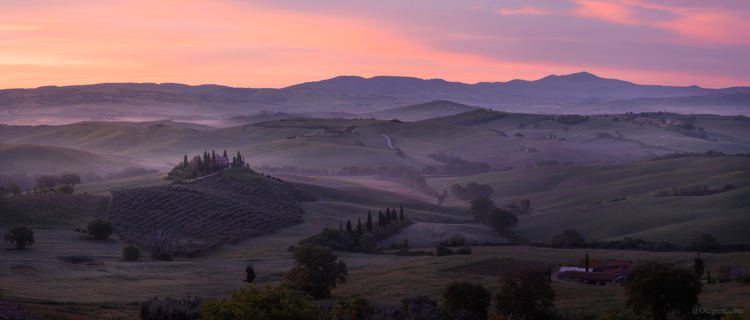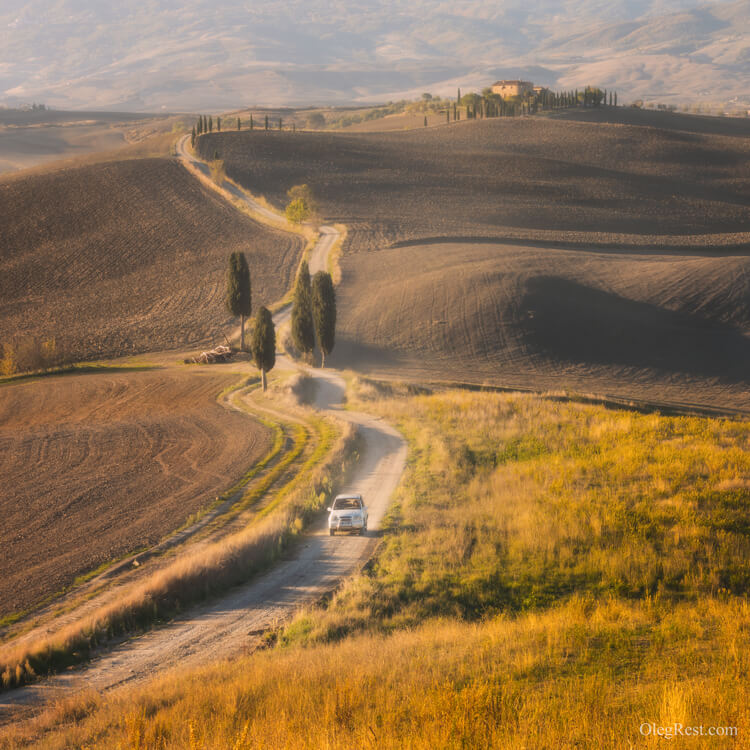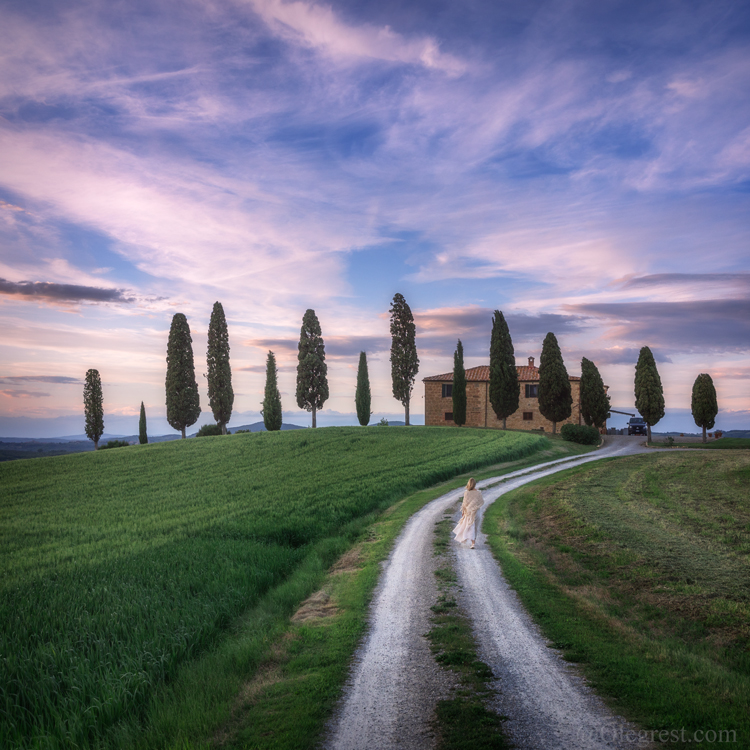 Day 4
After a few minutes drive to our morning location we will photograph one of the most famous villas in Tuscany - Podere Belvedere. After a morning shooting session and breakfast at the villa we will head out to one of the centers of winemaking in Tuscany - Montepulciano, where we will taste wines and listen to an interesting story about Italian winemaking. If we get lucky with the weather, we will enjoy one of the most beautiful sunsets near Baccoleno villa.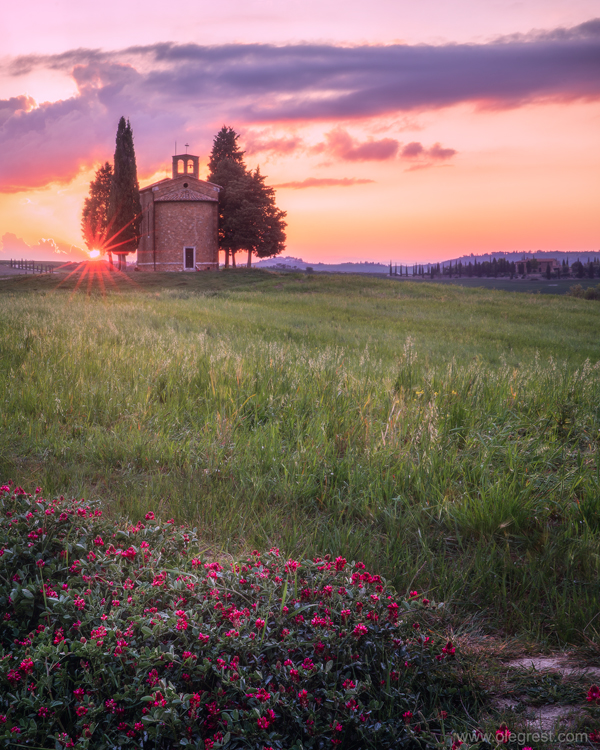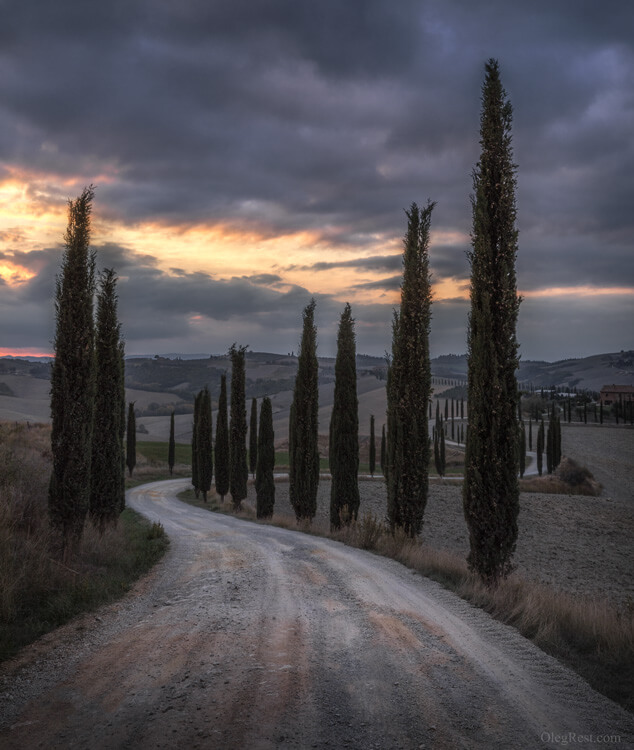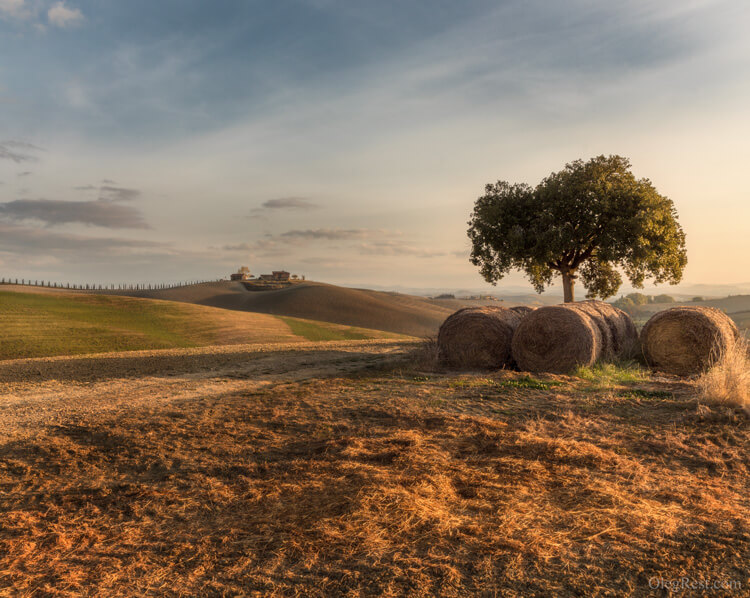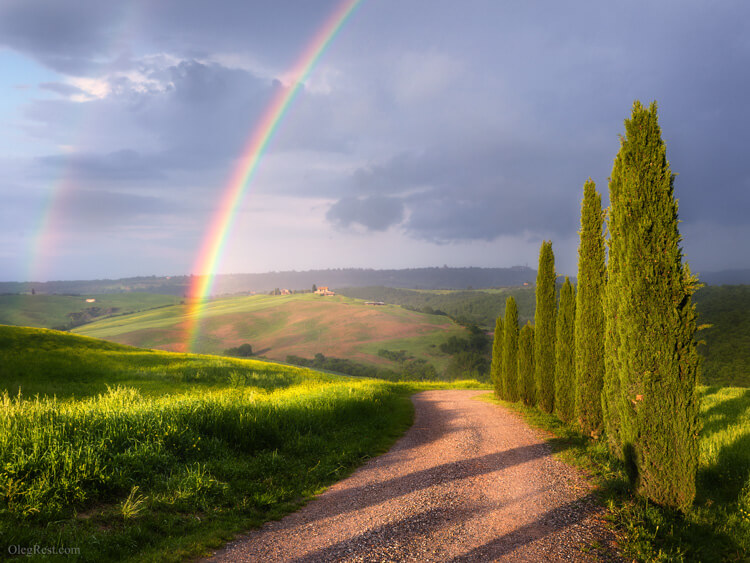 Day 5
We will spend morning admiring the sunrise over the Crete Senesi hills. If we get lucky with the weather and the hills will be folded in mist, we will witness a wonderful morning in Tuscany. After breakfast at the villa we will visit famous Terme di Saturnia, where we will enjoy the natural baths pretending to be the Roman patricians. We will photograph sunset at Corsignano.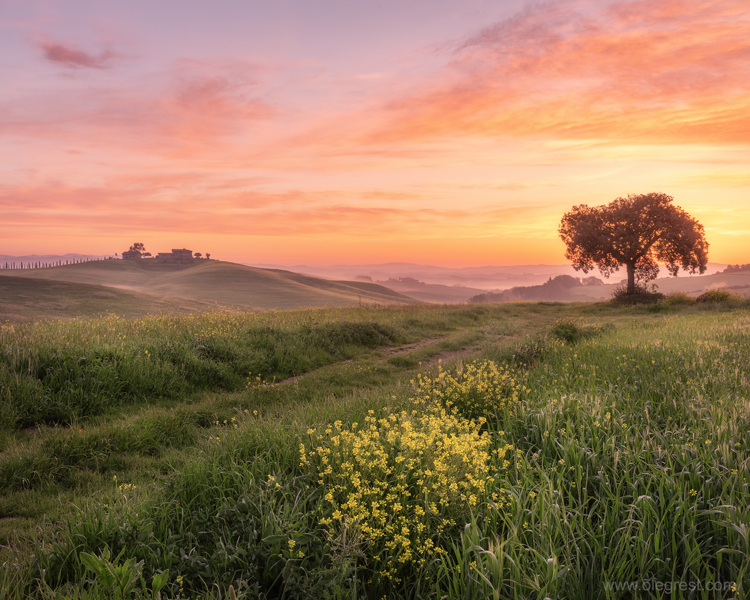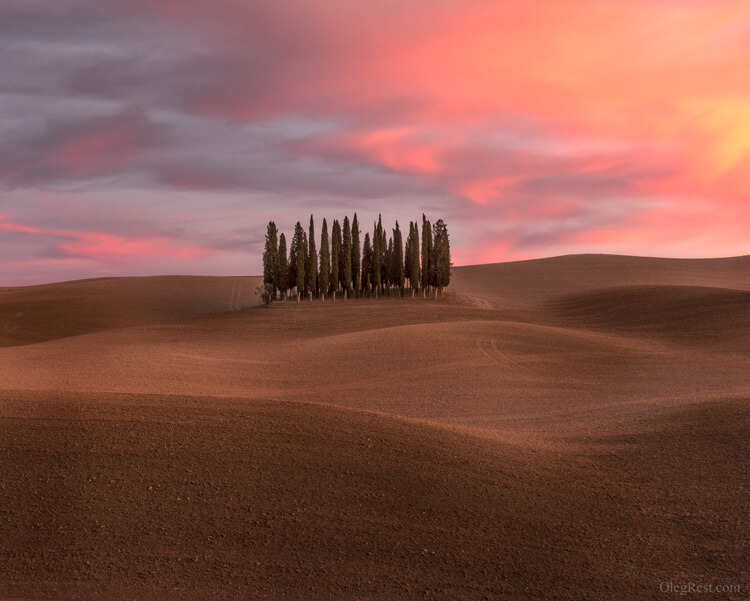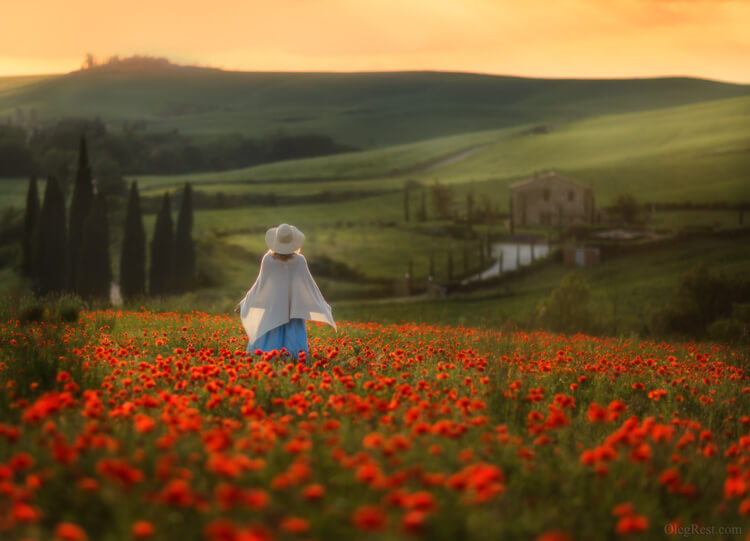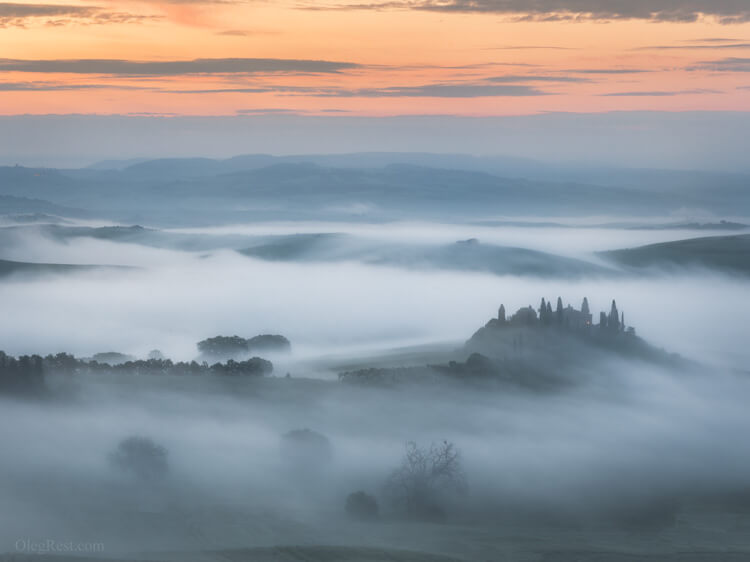 Day 6
We will shoot sunrise close to Capella Vittaleta. After a quick breakfast at our villa we will head out to Montalcino - another wine making town in Tuscany. We will also visit San Gimignano - one of the most famous towns in Tuscany. Having reached its peak in the Medieval period, the town hasn't changed much since those times. Surrounded by city walls, it is dominated by 14 stone towers - "medieval skyscrapers". Since 1990 the historic centre of San Gimignano has been a UNESCO heritage site. This charming town is also famous for the most delicious ice cream in the world. For sunset we will go to Cipressi di San Quirico d'Orcia.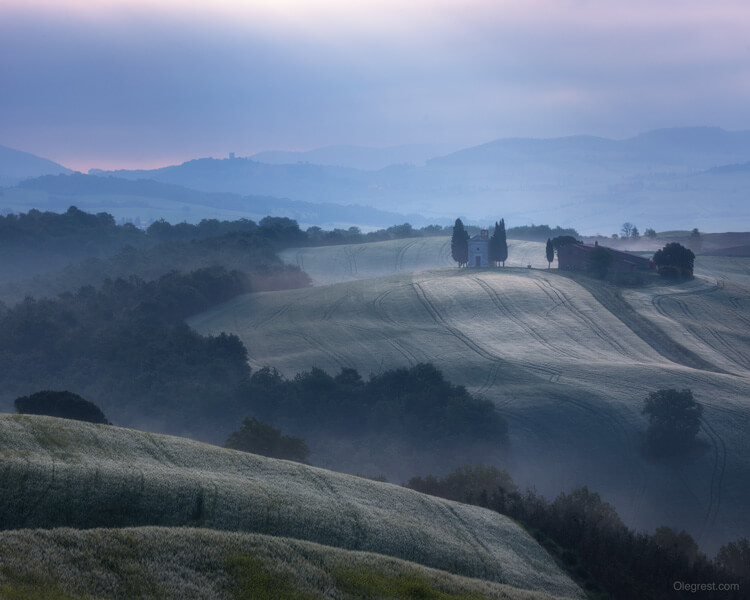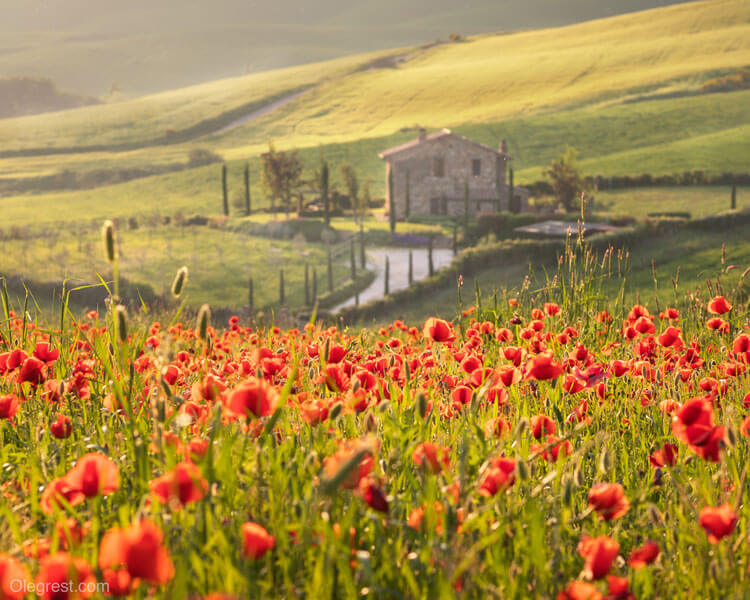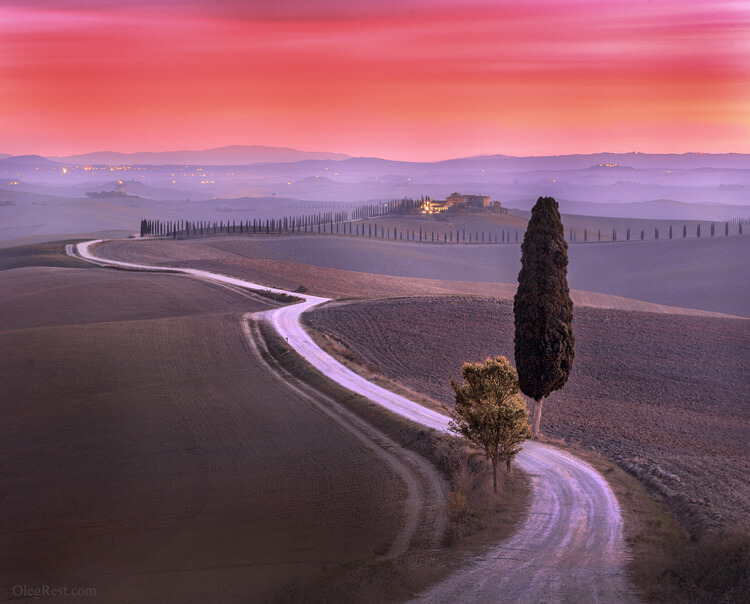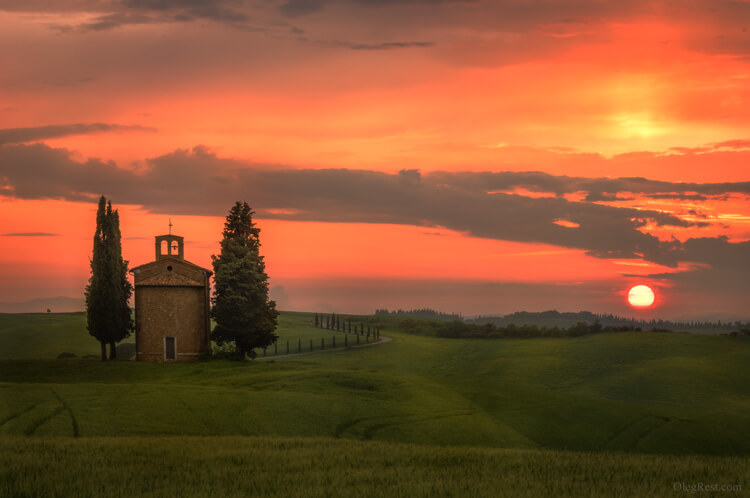 Day 7
On this day we will photograph sunrise close to our villa, and after breakfast we will take you to Fiumicino airport (Rome).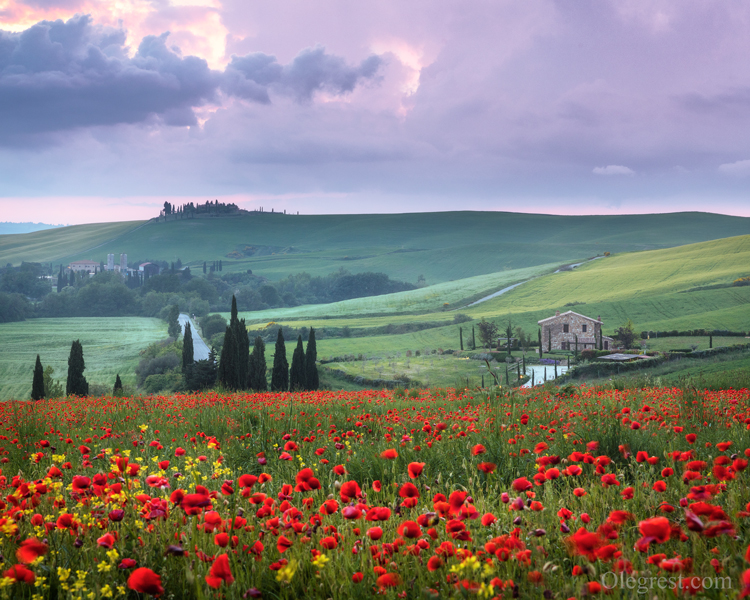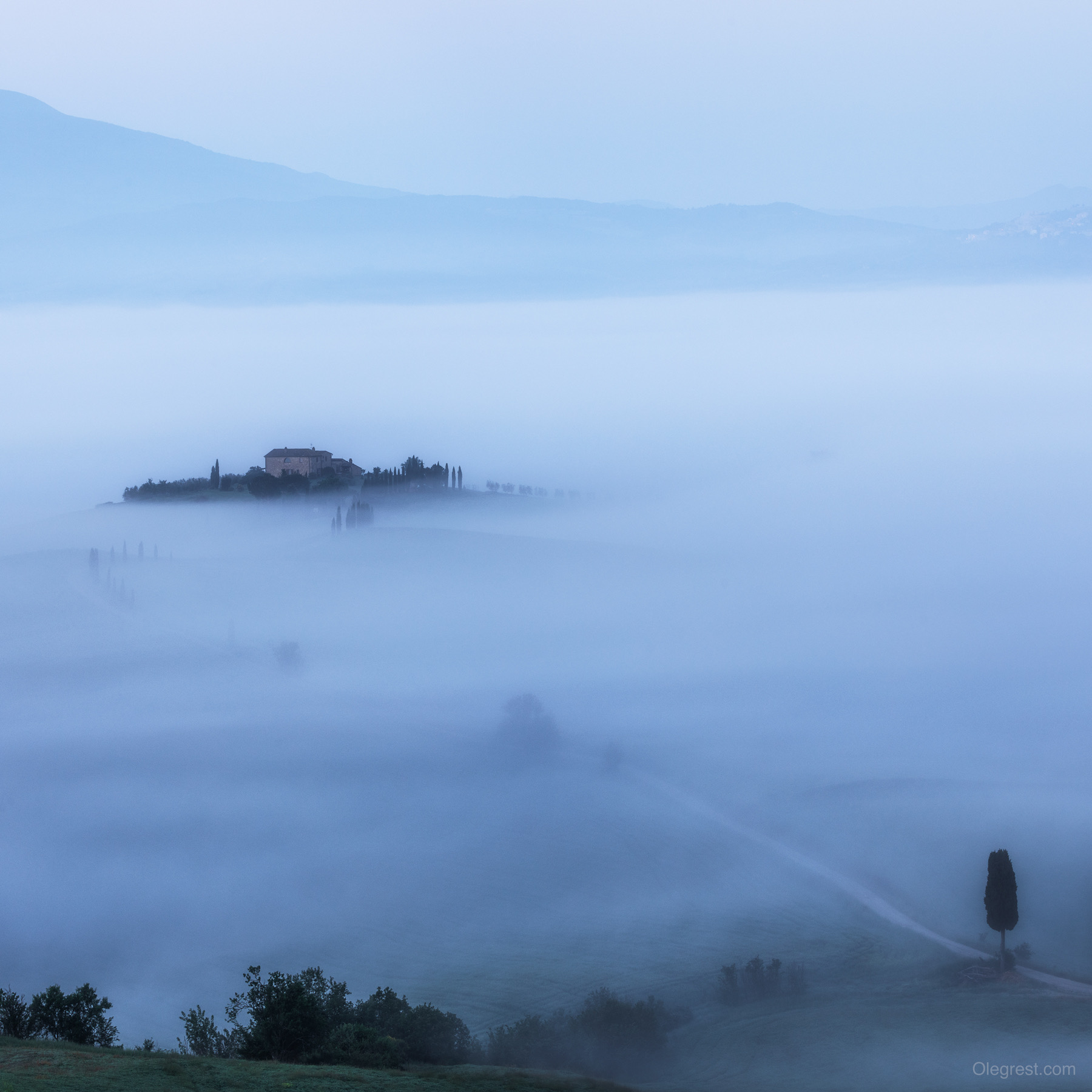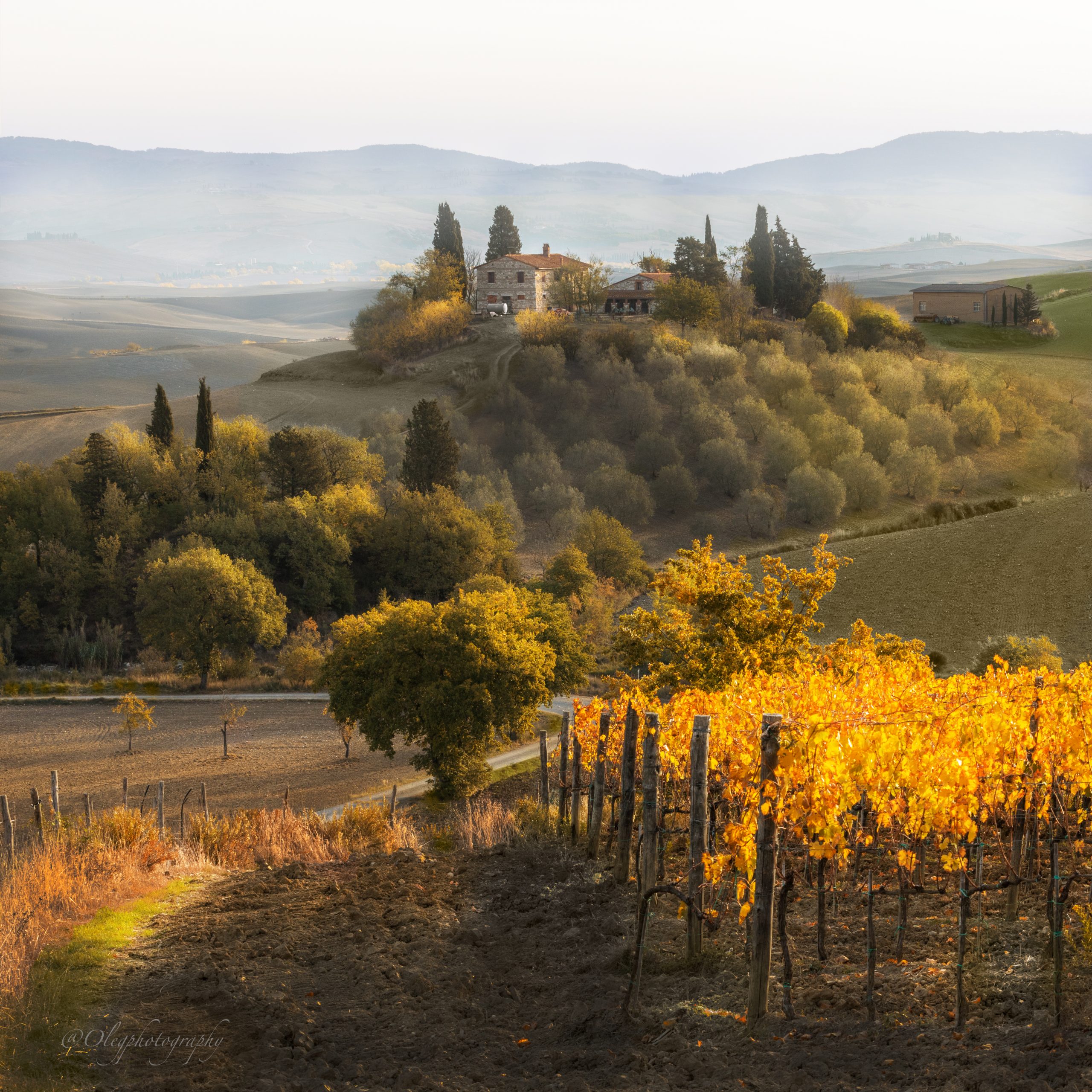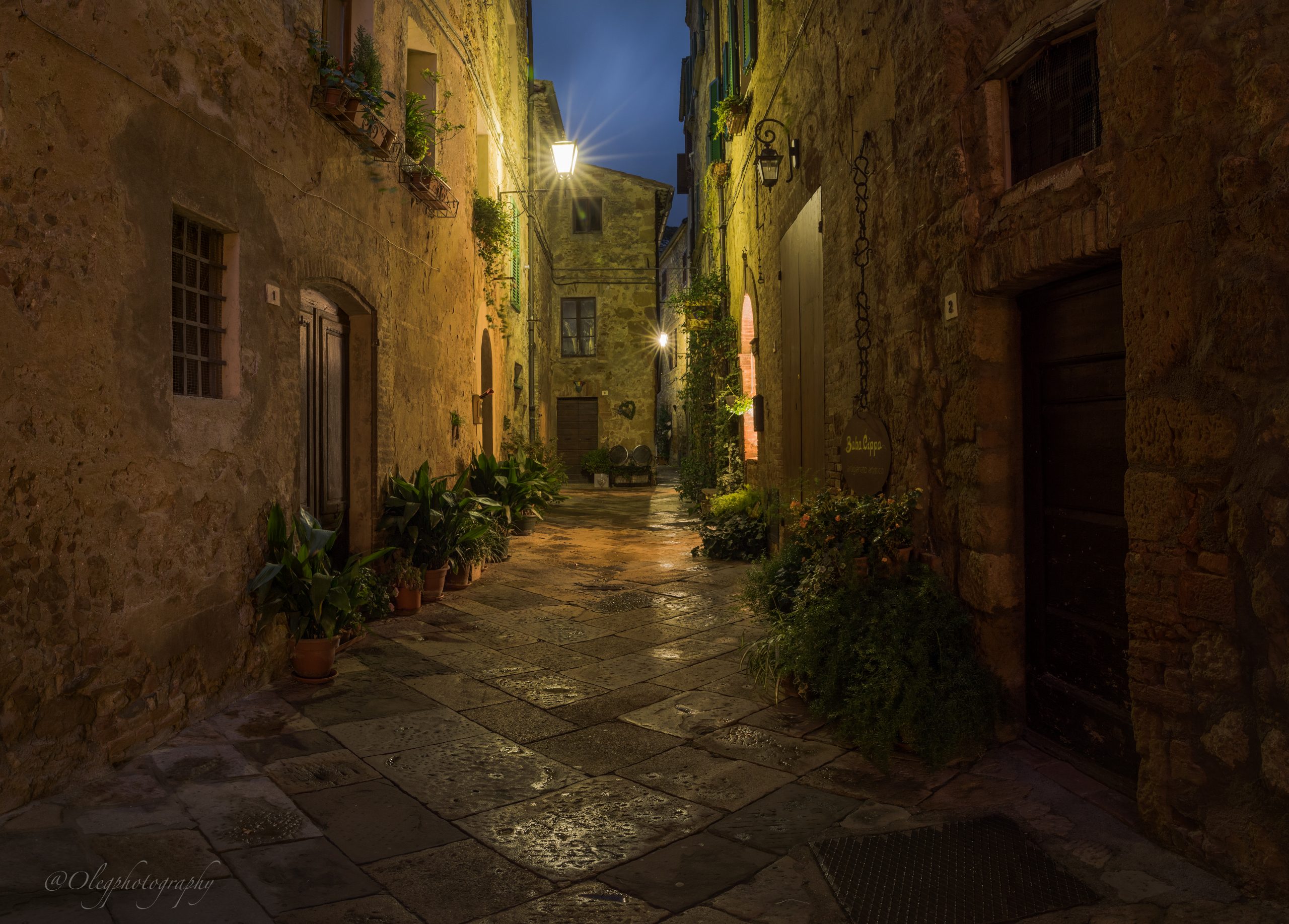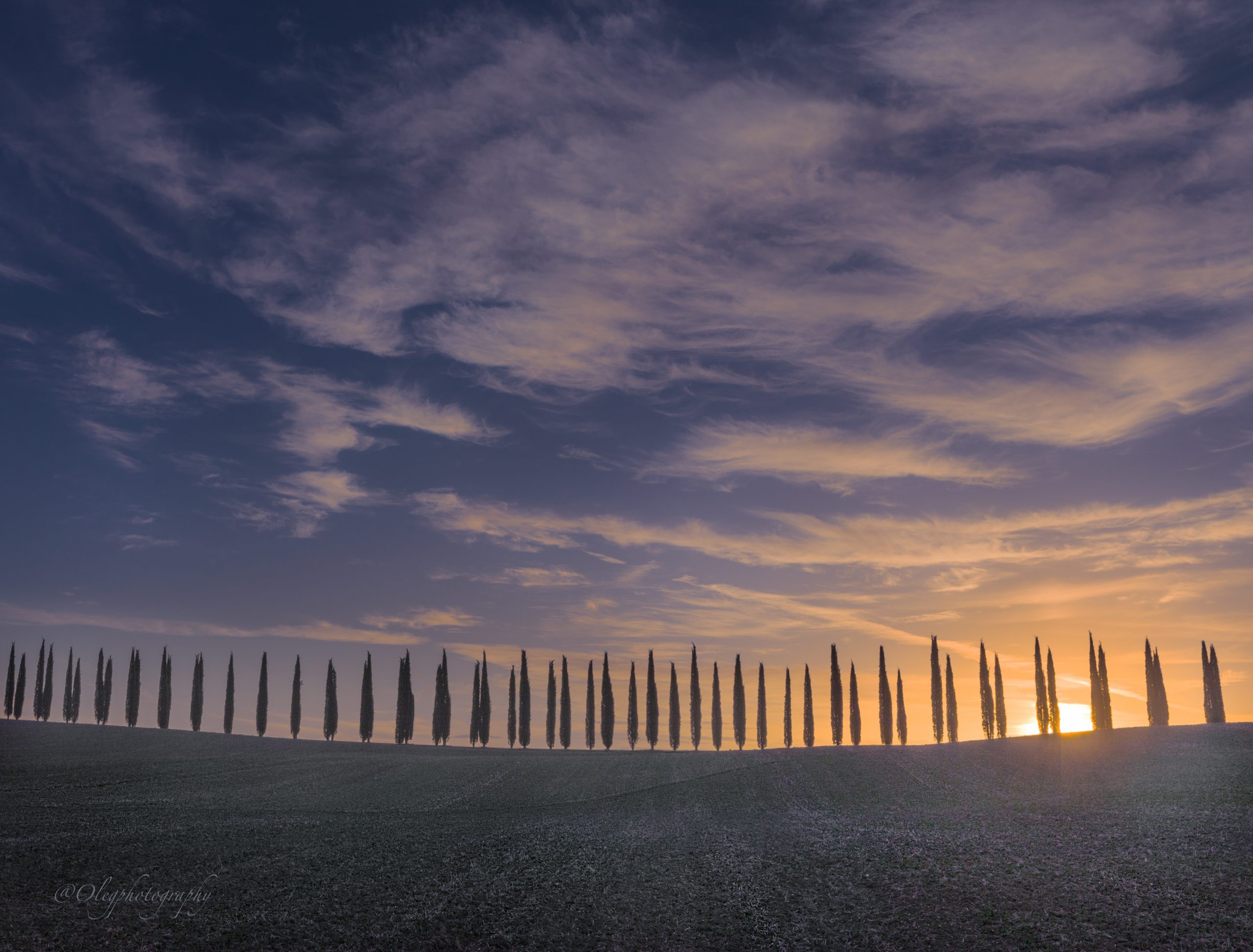 P.S. During our photography tour we might adjust our plan due to weather conditions.
Included in the price:
Guided by 2 professional photographers (English, Russian, French and Czech languages)
All transfers
Double room at the villa
Breakfast
Wine tasting
Processing sessions
Not included in the price and paid additionally:
Air / train tickets
Visa
Lunch, dinner
Single room at the villa +700 euro
Extra-alcohol, snacks
Personal expenditures (souvenirs etc)
Insurance
Anything not mentioned in the "Included" list
Photography gear:
Camera
Tripod
Wide angle lens (11-24mm or 16-35mm)
Middle range zoom lens (24-70mm or 24-105mm)
Telephoto zoom lens (70-200mm or 100-400mm)
Memory cards
Extra batteries
Shutter release
Headlamp
Drone
Clothing:
Waterproof jacket
Waterproof pants
Waterpoof shoes/rubber boots or NEOS overshoes
Knitted cap
Gloves
Fleece/softshell jacket
Raincoat
Casual clothes for dinners and lunches and processing sessions
A tour is considered to be booked if you received confirmation of availability and paid a deposit. The remaining sum is to be paid 75 days before the beginning of a tour.
In case of reservation cancellation 90 days before the beginning of a tour, cancellation charge is 100% of deposit, 60 days before a tour - 50% of the tour price, 30 days before a tour - 100% of tour price. If a tour is cancelled by me due to force-majeure circumstances, I return 100% of a paid sum to you.
Tour guides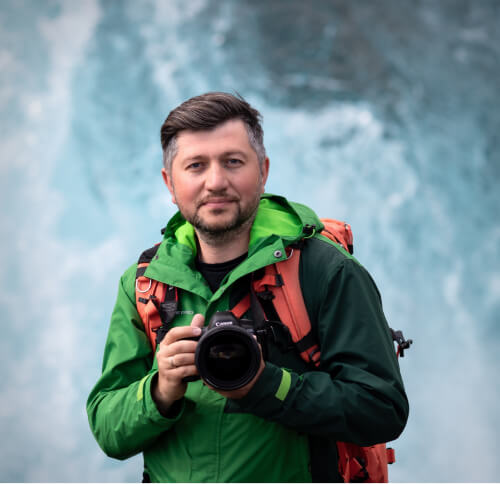 Oleg Rest
My name is Oleg Rest, I am a professional landscape photographer and traveler. I was born in Kazakhstan, the land of steps and severe climate. Since early childhood I was dreaming of traveling. I first took camera in my hands at 6, when my parents rented a Zenit film camera during our holidays on the Black Sea coast. I enthusiastically took pictures of my parents, later with my father we developed films in our bathroom and dried them on a rope. Now I shoot with a modern camera Canon R5, but nature and photography still inspire me the most. I have been to such amazing places as Patagonia, Norway, Iceland, Tuscany, Namibia, Slovenia, China, Moravia, the Alps and the Lofotens, Myanmar, Czech Switzerland and I wish to share my impressions and delight with you! Life is full of beauty. This is my motto. I am not a fan of sophisticated and time-consuming processing of photos. The best shot for me is the one that needs minimal processing. My main principles in photography are: Interesting composition Beautiful light Minimum of processing Nowadays it is hard to find a location where no photographer has ever been, that is why even in popular places I try to find an unusual foreground which makes any shot look in a new light. I have won several landscape photography competitions. My photos are published by Canon Czech Republic, Canon Ukraine. I am an ambassador of Lucroit filter manufacturer (Spain), H&Y (Hong Kong), software company Skylum (Luminar, Aurora HDR software) and backpack manufacturer f-stop (USA).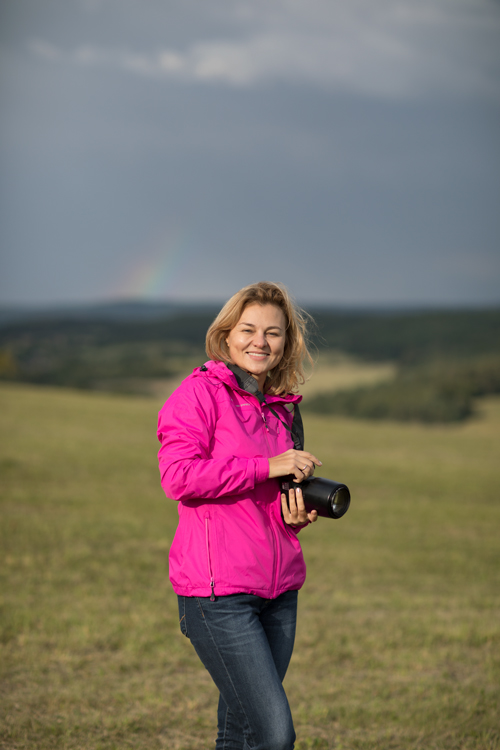 Maria Rest
My name is Maria. I am a portrait and landscape photographer. For several years in a row I have been travelling together with my husband and my camera all over the world. This has always been our dream to travel together sharing our love to nature and photography. We are now guiding photography tours together as tour leaders. I am happy to assist Oleg and to help participants of our tours with anything they might need.
Backstage