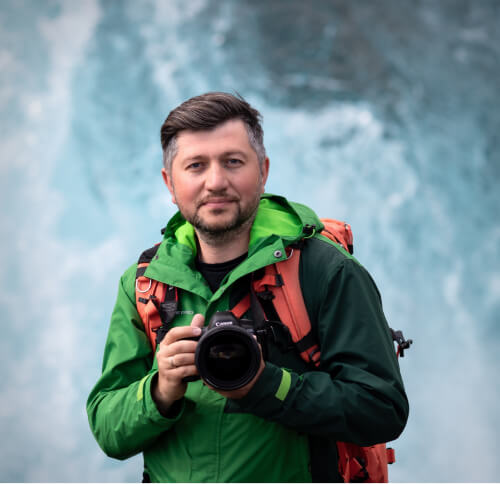 About Me
Landscape photographer
Hi guys, welcome to my website! My name is Oleg Rest, I am a professional landscape photographer and traveler. I was born in Kazakhstan, the land of steps and severe climate. Since early childhood I was dreaming of traveling. I first took camera in my hands at 6, when my parents rented a Zenit film camera during our holidays on the Black Sea coast. I enthusiastically took pictures of my parents, later with my father we developed films in our bathroom and dried them on a rope. Now I shoot with a modern camera Canon 5D Mark IV, but nature and photography still inspire me the most. I have been to such amazing places as Patagonia, Norway, Iceland, Tuscany, Russia, Slovenia, China, Moravia, the Alps and the Lofotens, Myanmar, Czech Switzerland and I wish to share my impressions and delight with you! Life is full of beauty. This is my motto. I am not a fan of sophisticated and time-consuming processing of photos. The best shot for me is the one that needs minimal processing. My main principles in photography are:
Interesting composition
Beautiful light
Minimum of processing
Nowadays it is hard to find a location where no photographer has ever been, that is why even in popular places I try to find an unusual foreground which makes any shot look in a new light. I have won several landscape photography competitions. My photos are published by Canon Czech Republic, Canon Ukraine.
I am an ambassador of Lucroit filter manufacturer (Spain), H&Y (Hong Kong), software company Skylum (Luminar, Aurora HDR software) and backpack manufacturer f-stop (USA).